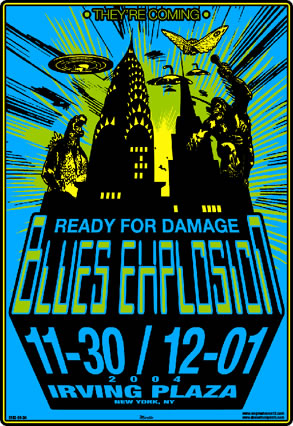 So here's today's
Galactic Mystery
. I like rap. I like rock. Ergo, collaborations between rappers and rock groups ... blow goats. If I exempt the few half-decent rap-rock groups like the Beasties, RATM and Biohazard (yup, you heard,
Biohazard
got a mention), there seem to be three categories of collaborative dross:
(i)
the well-intentioned but hopelessly embarrassing (Run DMC and Aerosmith, NERD and Spymob, Sonic Youth and Chuck D)
(ii)
the curious, dated, comical and slightly naff (Ice T & Body Count, the whole Judgement Night soundtrack)
(iii)
ass, plain and simple (Jay-Z and Linkin Park, Jay-Z and Lenny bloody Kravitz, Ordinary Boys and Lady Sovereign, Fall Out Boy and Kanye West, Limp Bizkit and Xzibit)
Can anyone suggest a collaboration that, like, totally RULES?
I can think of just one – a track which is, in itself, a Galactic Mystery: 'Greyhound', by Jon Spencer Blues Explosion, featuring Killah Priest, remixed by GZA. It works, largely, because GZA and Priest pay almost no attention to the content or context of the original (had they
heard
of JSBX, I wonder?), instead creating a dense, paranoid picture of religious fundamentalism and apocalyptic violence.
Why is the greatest rap-rock collaboration of all time hidden away on a Jon Spencer remix EP, and on volume 2 of patchy
Wu Chronicles
series? More bafflingly, why is it (as far as I know) GZA's only solo production credit? Presumably, if you're an incredible MC with a hotline to E.Z. Moe Bee, RZA and Muggs, not to mention hundreds of subsidiary Wu producers, there's little reason to spend time behind the boards. Maybe he just put his name to it, and got a lackey to produce. But this soupy, claustrophobic, grunged-out oddity is as compelling as most of the beats on
Liquid Swords
or
Grandmasters
, and far more interesting than anything on GZA or Killah Priest's other solo LPs.
Jon Spencer Blues Explosion feat. Killah Priest -
'Greyhound Part 2 (GZA remix)'
Moby also had a go at remixing the (excellent) original. He turned the guitar up, and played keyboard along to it. Well done, Moby.
Jon Spencer Blues Explosion -
'Greyhound Part 1 (Moby remix)'

Buy Jon Spencer
Buy GZA
Buy Killah Priest
Buy Moby


More fun:


In looking up all things Killah Priest, I found the
greatest movie ever made
Over at
Berkeley Place
Ekko has a mighty fine Mark Lanegan solo show from 1995.
Coming up on Galactic Mystery Solvers:

Cassadega
vs
Sky Blue Sky
- there can be only one...
Ukulele Orchestra of Great Britain LIVE