Every record label has a folktronica artist on its roster these days, and you know what? I like them all precisely the same amount. "Uber-cool" brainy hip hop label Anticon has SJ Esau, who (his biog claims) used to be part of the
Bristol
rap scene that spawned Tricky and Massive Attack, before deciding to drop rhyming in favour of noodling. A one-man band, occasionally hitting a cymbal with the neck of his guitar for 'rhythm', SJ mixes Daniel Johnston's naïve melodies with your usual wash of glowering Mogwai-isms, Four Tet flutes and syncopated drum loops. It's far too quiet to be heard above the crowd. Here's a rather good video of his:
Add to My Profile
|
More Videos
People tend to call Youthmovies (formerly, or perhaps still, Youth Movie Soundtrack Strategies) a math rock band. For me, math rock implies cleaner, sparser guitar lines and a refusal to acknowledge a world outside of 'Spiderland'. Youthmovies are much more expansive. This is not, however, a good thing. It is a thing that brings to mind the term emo-jazz. Each song lasts about seven minutes, and contains about fourteen hideously complicated riffs – a musical combination of autism and ADHD. Like so many contestants on UK's Got Talent, they need to know that because it's difficult, doesn't mean it's good.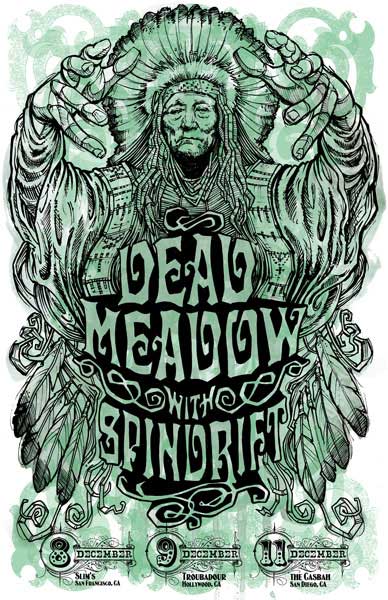 Stoner? Isn't that a bit extreme?

I'd have enjoyed Dead Meadow more if the Cellar didn't insist on putting its headline acts on at , and didn't fill the intervening hours with weak cider and a piss-poor support act. On stage, the Meadow lose the Dandy Warhols psych-pop side they have on record, instead locking into a hazy, fuzzed out stoner groove. It's a niche they make their own, distinctly different from the monumental sludge of Fu Manchu, the vicious drive of Monster Magnet or the desert-rock of Kyuss. The drumming is reminiscent of Mountain, and Dead Meadow could prove an equally attractive source of sounds for canny hip-hop beat-makers. However, the sound is so blunted as to be almost identical inside and outside the venue, while the pace of songs never varies. After a while I either need to be high on some crazy California drugs, or go to bed.