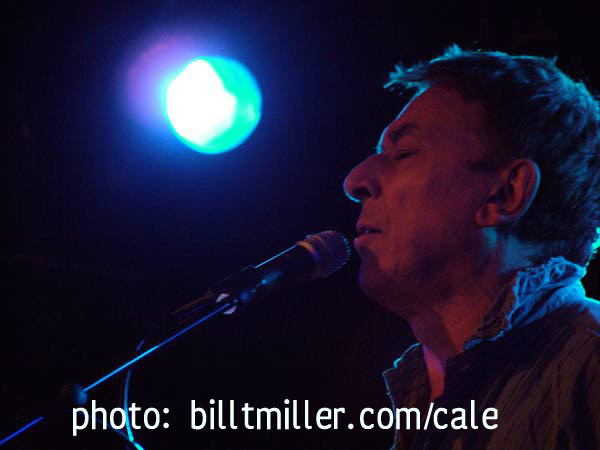 "The legend who can still go"
(c) All wrestling commentators

It's staggering to think that John Cale recorded the first Velvets album forty years ago. Tonight he sets out to prove that he's invented / dabbled in / mastered every genre since then (except maybe crunk), and that he's got the stamina and the chops to rival any of his descendants. His surly stage presence and deep, stiff, sometimes inexpressive voice allows an impressive musical sleight of hand. Under his nonchalant guidance the set jumps (almost) seemlessly from gut-punching rhythmic blues-rock to close-harmony indie-pop, than across to the keyboard for spiralling dub reggae, an almost nu-rave cover of 'Heartbreak Hotel', to proggy improv, folky punk, then back to the guitar for a chugging, muscular workout that outdoes anything on the last Queens of the Stone Age album. Only in the encore does he touch the Velvets back-catalogue, with 'Venus In Furs', but thrilling though that it, he quickly betters it with a rousing 'Chorale' ("written on New Year's Eve in CBGBs," he says).
The backing band does a fair job of keeping up with the stylistic changes, only occasionally causing Cale to wince as they lose the thread of his keyboard ramblings. It's a long, slightly exhausting set, covering his entire career, and mixing a couple of 'greatest hits' ('Ship of Fools', Jonathan Richman's 'Pablo Picasso') with new material and obscure choices. It's hard to think of another band with this much breadth and versatility, except perhaps the Mekons. So long as he keeps on pouring it all into one set, peers are thin on the ground.
John Cale audio
here
Homepage
Buy 'Circus: Live'