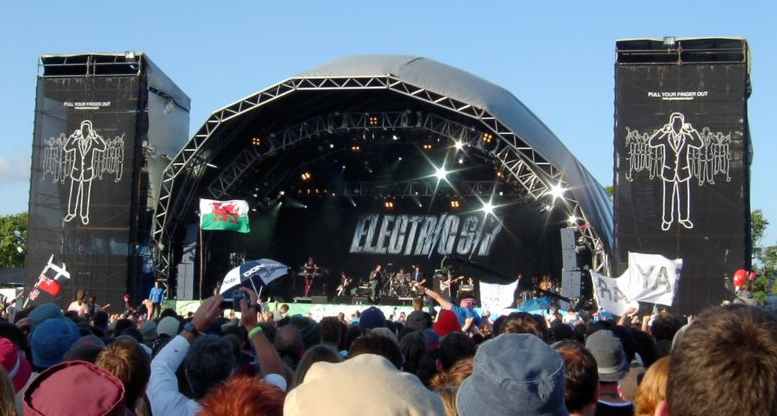 Electric Six, a Welsh flag and the phrase "Ba Ya". The spirit of Avalon awakens.
in the wake of all this bonnaroo-related excitement across the pond,
GMS
has decided to get involved with the live-blogging revolution. we'll be providing in-depth, all-access gossip and coverage of the glastonbury festival. live and direct from the HQ here in oxford.


1.45
some nice lunch. a french cheese called chaumes. pleasantly nutty yet smooth.


2.00
WEATHERFLASH it's a bit showery, in intervals. the bbc has a nice visual aid: a muddy leg. so, like, students can understand the weather too.


2.10
completely incredible news, pop pickers! from nme.com:


The View's frontman
Kyle Falconer
told
NME.COM
that the band's
Glastonbury
debut was "really good", adding:
Falconer
and
Reilly
then went off to watch
The Cribs
on the
Other Stage
.


a man of few words.


2.15
we follow falconer and reilly over to underwhelming pavement-punk journeymen the cribs, where something even more incredible takes place. NME.COM again:

The Cribs
spoke out against indie during their performance at
Glastonbury
2007 festival.
Before closer
'The Wrong Way To Be' Gary Jarman
said sarcastically : "They want us to speak out about global warming but the biggest problem is the attitude of some indie bands. Isn't that a bigger problem?"
He also screamed the words: "Fashionistas we don't need you!" during the end of
'
Wrong Way To Be'.
With the crowd chanting "
The Cribs
are on fire!", their frantic set ended with
Gary Jarman
jumping into the audience and losing his shirt
.


time for a cup of tea.


2.35
NME mention "a month's rainfall in an hour". this scores heavily on the glasto drinking game, just behind 'rumours of a libs reunion' and 'keith allen arrested'.


2.40
the earlies are due on the pyramid stage, which makes one more decent band on that stage than glasto managed in 2005. GMS caught them at the New Bands tent two years ago. Very nice, in a Doves-go-americana spirit.
16.00
lay-z writes a good verse, on a new t.i. track (unclear whether t.i. or t.i.p. is responsible). not glasto, but news: get it at nahright.


16.10
steve lamacq on bbc radio 6, holding down the mid-paced indie rock steez like it was '97. dunno who he's playing, but it sounds like a worse version of number one cup.


16.15
the cribs are on the air! "yeah it were good." moaning about the rain. doesn't look nearly as bad as 2005, 1998, 1997....

16.20
the cribs reckon modest mouse were alright. in all likelihood, modest mouse were alright.


16.25
more goodness from nahright - new song from little brother, about mooching about in nice clobber. not bad, a little smug.


16.30
first live music from glasto comes from ... the automatic. incomprehensible. not even the monster song.


16.35
the automatic covered 'gold digger' with a guest flautist. somebody call status ain't hood.
top five worst covers of pop and rap songs by dreary indie bands:

1. the vines - 'ms. jackson'
2. electric soft parade - 'can't get you out of my head'
3. travis - 'baby one more time'
4. the automatic - 'gold digger'
5. ben folds five - 'bitches ain't shit' (quite like that one, though)


16.40
literal theme music alert - garbage - 'only happy when it rains'. shucks.
five better rain songs:

1. johnny ray - just walkin' in the rain'
2. mark lanegan - 'kingdoms of rain'
3. fairport convention - 'down in the flood'
4. johnny cash - '5ft high and rising'
5. bonnie 'prince' billy - 'raining in darling'


17.00
BBC news refers to Amy Winehouse's set as "rather subdued". Excellent. Is this a 21st-century version of 'tired and emotional' for blog-friendly hipster-pop alcoholic wrecks?


17.05
Steve Lamacq spins 'Made of Stone' by the Stone Roses. Drink one shot.


17.10
Good Shoes played a set. Last year at Truck, GMS saw two of:

Good Shoes
The Shoes
Good Books
The Books

Neither of them were much good. NME's review doesn't make it at all clear which bands I might have seen.


17.15
arctic monkeys surpass the cribs in articulacy. they saw amy winehouse. "she were good".



17.40

TBC, or possibly not...