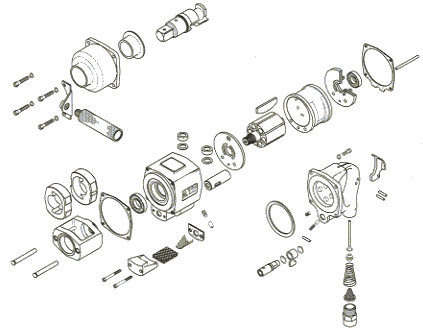 First up today is Magnolia Electric Co., bringing breezy Americana onto the main stage. All the elements are in place – Neil Young-style vocals, blues motifs, gee-tar solos, a masterful impression of God's favourite bar band. What's lacking? Well, they aren't Wilco, which is a hopelessly unfair criticism, but nonetheless, Jason Molina and (heh) 'Co.' seem constrained by the limits of their genre, and make little connection with the early-afternoon crowd.
Off upstairs for some slightly less predictable fare from Yugoslav-born zither virtuoso Felix Lajko (no, really). Lajko is accompanied by a Toby-from-the-West-Wing-style rhythm violinist, whose job it is to saw at great speed for 40 minutes. This alone makes the pair a festival highlight. Meanwhile, the main man alternates between shrill zither twanging and lightning-quick freestyle fiddling. After a while he slopes off, back to Hungary (where he's been on telly, you know), having made several hundred converts. Whether they'll ever buy and listen to this hectic freestyle folk-jazz is another question. But for a couple of hours, a small corner of England is down with, y'know, that Bulgarian chap with the stringbox.
Back on the main stage, Shannon Wright is, according to the official guide, "bringing people in the room to share the same emotions, revealing themselves to each other, and living completely without hindrance." Not my cup of tea at all, really – I love hindrance. But Wright plays a winning set of plonky piano aggro, recalling Rufus and Martha Wainwright in equal measure, before swapping to guitar to indulge some Throwing Muses grunge fantasies – less tuneful, but redeemed by waggling her arse at the crowd, and playing the guitar on the ground with her legs in the air.
Move along, no hindrance here

Across to Mekons frontwoman Sally Timms, a planned highlight of the festival, on account of GMS pumping Cowboy Sally's Twilight Laments for Lost Buckaroos since back in the day (heat for the streets, people). Unfortunately, Timms' unbounded musical odyssey has taken her a long way from bittersweet country: her set mines the dirgy goth depths of Nico's unlistenable solo work (albeit with a slightly nicer voice). Apparently the mix was sorted out towards the end, and the oppressive industrial splatter-beat computer accompaniment was turned down, to delightful effect, but GMS had headed off in search of a tasty omelette by that time.
Back in time for Low, whose latest album, Drums and Guns, I can't manage to love – too much of the whinnying atonal vocals and unsympathetic drum machine accompaniments. A small victory, however, for a band I was considering putting in the '97 mentality section: Low overcome the lack of atmosphere on the main stage, bantering with the crowd, and revealing new depths in their recent material – album closer 'Violent Past' is particularly good.
Low – 'Violent Past' (from Drums and Guns)
Unfortunate scheduling means that Low played at the same time as Suicide legend Alan Vega, whose set apparently featured "the Fall gone techno" and "verbal abuse of a Japanese child". No Akon.
Next up: the closing twenty minutes of Spiritualized Acoustic Mainline, wherein Jason Pierce revisits his entire career with the help of a string section, gospel backing singers and some shades. The general consensus seems to be that the set lacked variation and lively crowd interaction, neither of which are generally to be expected at a Spiritualized gig. But the closing volley of 'This Little Life of Mine', 'Ladies and Gentlemen', 'I Think I'm In Love' and 'Lord, Can You Hear Me?' do what Spiritualized always did best – reducing the history of punk rock, gospel and the blues to a single idea, then expanding that idea into a sumptuous wall of noise. Release another album, Pierce.
Spiritualized – 'Lord, Can You Hear Me?' (from Let It Come Down)
Main stage headliner Nick Cave has an even bigger back-catalogue to re-interpret. Cave headlines days 2 and 3, each time playing a two-part set, starting with the greatest hits, ending with Grinderman-heavy material. He's backed by the Grinderman line-up, which makes the greatest hits fall between a number of stools: we don't get the intimacy of a solo show, the full-band extravaganza of the Bad Seeds, or the songs Grinderman was formed to play, so the overall effect is slightly unfocused. That said, any set featuring Nick Cave with his silly moustache shouting obscenities and hitting a piano is several steps above anything else on offer, so all's good. Also noteworthy is the indie hipster who managed to time a bungee jump with 'The Mercy Seat'. King of Anglia.
Nick Cave – 'The Mercy Seat' (from Live Seeds)
Having paid due homage to King Ink, GMS is off to catch the end of Amelie soundtracker Yann Tiersen, who is aiming his sights at scoring the next Sofia Coppola film by concocting a chugging cacophony of early-90s shoegazing indie and half-muffled vocals. Yann's capable of greater things (earlier in the set he wielded an accordion, after all), but he seems to take humble, goofy pleasure in resurrecting Catherine Wheel and Swervedriver, so it's hard to criticise.
Committed to quotas, Yann breaks out the strings

The day closes with an early-hours set by Nina Nastasia, whose captivating country-goth tunes are somewhat stifled and drowned out by the freestyle drumming of omnipresent Dirty Three sticksman-for-hire Jim White. On record, lower in the mix, White's loose drum patterns are a good fit: not tonight, though, Jim.
Nina Nastasia – 'Beautiful Day' (Peel Sessions)


Stick around for:
Papa M, Dirty Three, Silver Mt. Zion, Cat Power, Bill Callahan, Joanna Newsom and Grinderman. I mean it, man.
Back to Day One