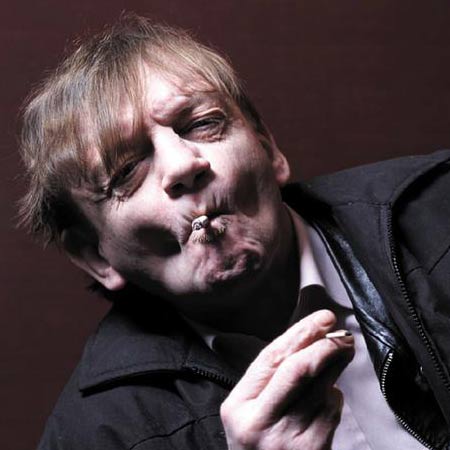 former make-up / nation of ulysses / weird war frontman and pop-marxist ian svenonius is two episodes into his second
vbs.tv
soft focus
interview series, which looks at british musicians. this week's kevin shields interview has caused a bit of a stir, as shields promises a new my bloody valentine album, and reckons it will sound like my bloody valentine. shields seems like a pretty normal, grounded bloke, which is interesting in itself, but that doesn't make the interview particularly thrilling.
soft focus
works best when svenonius' interview technique - a mixture of louis theroux-style naivete and slightly-distracted ponderousness - comes up against someone equally odd, creating an unsettling, borderline hostile atmosphere that turns a muso chat into something altogether different.
will oldham was certainly up to the task in series one, but last week's mark e. smith interview took that 'ish to the next level. smith necks pints throughout, pulls his rubbery face into strange, childlike gurns, and airs his casual but sincere contempt for sonic youth, talking heads, bob dylan, neil young, all other manchester bands, british musicians, gene simmons, british tv, the irish, svenonius' teeth, clothes, private life and personal hygiene. he's like a weirdo in a pub who insists on sparking up a conversation and then seems to resent it. but he's also hilarious and generally spot-on. svenonius does a decent job of coaxing gems out of smith without getting outraged, intimidated or upset, though he cracks up when smith starts in on kurt cobain and courtney love.
the fall - 'a day in the life' (beatles cover)
part 1
part 2
part 3
part 4
buy the fall